7 Secrets to Making Money with Blogging, Facebook Marketing & Twitter for Business
by Former NSW Young Entrepreneur of the Year, SMX Idol Winner & Affiliate Summit Keynote Speaker Dave Cupples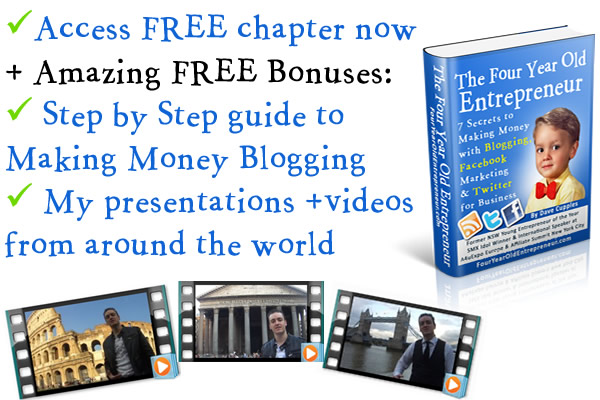 After starting his first business aged 4 and his first internet business aged 15, former NSW Young Entrepreneur of the Year and SMX Idol Winner Dave Cupples shares 7 Secrets to Making Money with Blogging, Facebook Marketing and Twitter for Business. Packed with amazing case studies from around the world and the most effective tools and real actionable cutting edge tips.
You will learn: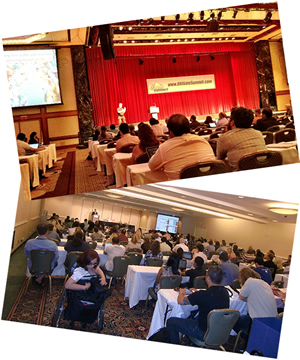 • The real secret to being an entrepreneur
• How to spy on and copy competitors
• Tips & tools for more Facebook likes, Twitter followers & blog subscribers
• How to incentivize and supercharge email opt-Ins, Facebook likes and shares
• Secrets to getting shared by influencers and the media
• How Dave earned his first $100 at age 4 and learned the most amazing lesson in life
• Why Social Media Fans are like women …
• How to capitalize on the great changes and opportunities of our time
And much more!
The Four Year Old Entrepreneur includes the best of the best from Dave's presentations which have enthralled audiences worldwide including at the leading Affiliate Marketing conference in Australia, Affili@Syd, the biggest performance marketing conference in Europe, A4uExpo Munich, and his Keynote at largest Affiliate Marketing conference in the world, Affiliate Summit in New York City.
What people are saying:
"This guy knows his stuff"
Simon Lissa, E-Web Marketing
"You need to follow this book's advice"
Deborah Carney, Merchant ABCs
"I was blown away by Dave's knowledge"
Justin Rondeau, Which Test Won
 Get the Book, Videos & Bonuses NOW: